Submissions
1. SCA Name: Antonia da Ruchellai

Mundane Name: Tia Kîata
Group: Stormhold
New name and device change. Azure a cross of Toulouse argent.
Language: Italian
Submitted Documentation.
This Lady's name is currently registered as Saraid na Stoirmeand was registered in November 1989. Her current device is Purpure goutee d'eau, a chief invected argent and was registered in June 1991. She has not expressed her wishes as to whether these are to be released or not.
Antonia can be found on p70 of de Felice "nomi". I cannot reference this book as I don't have a copy however I did see it at the Crux meeting. Normally I would chase this up but I am trying to close things out and hand over the office.
da Ruchellai is a little more difficult. The submitter provides photocopied evidence from A Consise Encyclopaedia of the Italian Renaissance by J.R. Hale, which has a section on the Ruchellai family and mentions the existence of a Ruchellai Palace but nothing regarding the phrase "da Ruchellai". I might be convinced by "di Ruchellai" which I believe to be the correct grammer. However, the submitter will allow changes to correct the grammar so I will let someone conversant in Italian deal with this.
The major charge in the device is a little thin line for my tastes but it is in the arms of Torlouse dated 1245 according to the PICDIC 2nd Edition. The only concern left is the close relation of this cross to the place but I am probably paranoid (university politics will do that to you!).
Consulting Herald: None listed



2. SCA Name: Caterina Ruzzini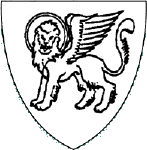 Mundane Name: Claire Murray
Group: Stormhold
New name and device change. Sable a lion of St Mark Or.
Language: Italian
This Lady's currently registered name is Isabella di Montefeltro and her device is Azure a compass star and on a chief or, three cresents sable. The name was registered on the 30/5/92 and the device on the 19/7/92. I regret to say that she wished to release these elements. I regret this because I help her design the device and consulted on the name and think they are nice!
Anyway Caterina can be found in de Felice "Nomi", on p 102 and Ruzzini can be found in [2]. Her name should be phonetically clear of Katerina Razin, with both syllables of the surname changed.
Consulting Herald: herself



3. SCA Name: Caterina Ruzzini

Mundane Name: Claire Murray
Group: Stormhold
New badge. Gules three catherine wheels or.
Consulting Herald: herself







4. SCA Name: Gareth de Grey

Mundane Name: Anthony McCoombes
Group: Stormhold
New name and device change. Sable an hour glass argent.
Language: English
This Gentle's current name is Gareth Greystone and his device is Per fess sable and argent, a pale counterchanged between in chief two hourglasses argent, overall a dragon segreant gules (registered June 1990). These are to be released.
Gareth is already registered but it can be found on p125 of Withycombe dated 1593. "de grey" is in [3] on p203. The submittor has also provided documentation from the CD version of Britannica of a Walter de Gray also spelt Grey who died in 1255 who managed to rise to high ecclesiastical office under King John.
Consulting Herald: himself



5. SCA Name: Marcellus the Damascene

Mundane Name: Mark Batchelor
Group: Aneala
New name (see returns for device). Anglicised Latin
This name was submitted as Marcellus the Damician but was changed to his first alternate of Marcellus the Damascene when no documentation for "the Damician" could be found. He will also accept Marcellus of Damascus.
Marcellus, according to [4] p205 is a Latin diminutive of Marcus. There is first century Roman martyr and a fourth century Pope, both saints with this name. It is also a latin cognomen. It was also used rarely in England from the 16th century onwards.
The correct latin for this name is Marcellus Damascenus, but it seems the submitter wishes to avail himself of the "Lingua Anglica" allowance so, as Marcellus is used in English and the Cassels latin Dictionary provides Damascene as an appropriate translation for the adjective "Damascenus", this option seemed acceptable.
Consulting Herald: Peter d'Gaunt Noir



6. SCA Name: Möngke Bukha

Mundane Name: Sean Jefferies
Group: Aneala
New name and device. Or three wolfs teeth issuant from dexter and a base wavy purpure.
Language: Mongol
The submitter has provided information from The mongols by David Morgan (no Publisher listed) 1986 showing a dynastic table of the Great Khans listing a Möngke who lived from 1251 to 1259 when he was succeeded by his brother Qubilai. Bukha is documented as a second name from an article in the Royal Asiatic Society Journals 1942 entitled "The Mongol wars with Hsi-Hsia (1205-1277)" by H Desmond Martain. This article lists a lieutenant Möngü Bukha dated 1222.
Not knowing anything about Mongol names, I cannot argue with the documentation supplied. The device seems acceptable.
Consulting Herald: Sir Kane Greymane



7. SCA Name: Sian Llwydwyn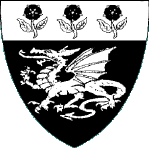 Mundane Name: Emily Buzza
Group: Stormhold
New device change. Sable a dragon passant and on a chief argent three roses sable slipped and leaved vert.
This Lady's current device is Sable, a dragon and on a chief argent three garden roses sable. She is merely changing the position on the Dragon to reduce the chance of being accused of having had a traffic accident with the poor unfortunate dragon on her previous device. She askes that her previous submission is released.
Consulting Herald: Drogo von Königsberg



8. SCA Name: Timoteo Alvaraes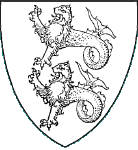 Mundane Name: Timothy Danks
Group: Stormhold
New name and device. Azure two sea lions passant tails reflexed or.
Language: Spanish
This name was submitted as Timoteo d'Alvaraes but was changed to reflect the documentation. Timoteo can be found on p 344 [1] as can Alvaro on p122. According to the submitter, Alvaraes/Alvarez is a common spanish surname late in period and he lists a Tomas Alvarez, a navigator. I cannot substantiate this so I would appreciate it if the college could help in this matter.
The device should be clear of Sable, two sealions passant addorsed or and argent tails curved over their heads embraced (Donall Gallvin, East Kingdom, August 1993).
Consulting Herald: Drogo von Königsberg


Returns
SCA Name: Marcellus the Damascene
Mundane Name: Mark Batchelor
Group: Aneala


New device (see submissions for name). Or a single-horned anvil sable and a base rayonny gules overall a broken sword point in base argent hilted gules

The device is being returned because the overall charge is a metal and so is the field. This results in a violation of the contrast rules. The overall charge must be in contrast with the field.

Consulting Herald: Peter d'Gaunt Noir


References
Francisca Arana de Love. Nombres Propios Españoles. Editorial Vosgos, Barcelona, 1982.
Joseph G. Fuchilla. Our Italian Surnames. Genealogical Publishing Co., Baltimore Maryland, 1993.
P.H. Reaney and R.M. Wilson. A Dictionary of English Surnames. Routledge & Kegan Paul, London, third edition, 1995.
E.G. Withycombe. The Oxford Dictionary of English Christian Names. O.U.P., Oxford, third edition, 1977.